This blog is dedicated to understanding students about NSP Login and Renewal process. NSP (National Scholarship Portal) is an online platform provided by the government of India to apply, renew and track the status of scholarships for students. It is a one-stop solution for students to apply and receive scholarships from various government departments and organizations.
To access the NSP, students need to create an account by registering on the website with basic personal and academic details. Once logged in, students can apply for scholarships, renew their existing scholarships, and track the status of their applications.
 So, many applicants are confused about their login, renewal, and last date.
Many comment us about-
how to apply in the given schemes,
where to apply,
some stuck in the login process
So, just to remind all these queries I write up this article and try to resolve all the issues about NSP  login, Renewal and Fill the Registration Form.
Here we provide a complete procedure on how to do NSP login by student, institute, and school level.
As we all know, NSP Portal which is abbreviated as National Scholarship Portal is all in one government scholarship portal. Every year many schemes introduced by the state and central government on the portal.
To renew a scholarship, students will need to log in to their NSP account, fill out the renewal application form, and submit the required documents. The renewal process may involve an update of personal and academic details, and a verification process.
Not New Schemes, even the old scholarships renew in the same place. Further, If you have any queries or doubt so, don't hesitate and ask me for a comment.
About National Scholarship Portal (आखिर क्या है NSP Portal)
Firstly, we start to understand the National Scholarship Portal, which is also known as NSP. It is a digital scholarship portal that is running various scholarships from all over the states of India. These scholarships are offered by Central, State, and other government organizations like UGC, CBSE, etc.
सदाहरण शब्दों में NSP Login एकमात्र ऐसा प्लेटफार्म है जहाँ हम सारी गवर्नमेंट स्कालरशिप स्कीम्स पा सकते है एक ही जगह। इस पोर्टल से अलग अलग स्कीम्स में अप्लाई कर सकते है। इस प्लेटफार्म पर हमे सारे स्टेट्स की स्कालरशिप मिल जाते है। हमारी स्कालरशिप आई या नहीं यही से पता कर सकते है साथ ही साथ अगर हमे अगले साल के लिए अपनी स्कालरशिप को renew करना है तो हम यही से करा सकते हैं । NSP Scholarship 2020 Schemes का नोटिफकेशन आ चूका है। और सारी ही स्कालरशिप की लिस्ट नीचे दे दी गए है। सरे बच्चे अपनी eligibility के अनुसार इन स्कीम्स में अप्लाई कर सकते है।
NSP Renewal 2020-21
NSP renewal process is the same as the registration procedure. In this process, the students who received scholarships already can apply to renew the same scheme for next year. So that, he/she will get a complete education benefit.
To renew the scholarship for the next session, the applicant requires to meet NSP Renewal criteria. Every year government releases both fresh and renewal registration simultaneously. Just select your scholarship and apply for the same.
How to Renew Your Scholarship get complete details and a renewal form here
NSP Renewal 2020-21 Last Date
The last date for NSP Renewal 2020-21 is 15th April 2023. As we mention, the fresh application and renewal date are the same for all the schemes.
Important Points Remember Before NSP Login 2020-21 Renewal 
NSP Login 2020-21 renewal is organized on both the school and college levels. There is no difference either you're studying in school or university. But, you need to remember some important things before applying for renewal-
If you're course or schooling is complete so you are not eligible for scholarship renewal
And, if you are eligible for renewal so never ever do fresh registration. Otherwise, you're existing scholarship process will be rejected due to a duplication error
In case you want to apply for fresh registration then first you need to back your renewal application
NSP Registration Form 2020-21
NSP Portal is a gateway to apply in all the schemes available on the portal either by central or state govt. The portal receives 125 lakh applications every year out of which 105 lakh applications are verified every year. 
Here is the NSP registration form 2020-21 for all the eligible students. All state, central, UGC, MHRD schemes will fill by using the same registration form. Here, we also provide you the complete details about NSP login, renewal Process, Scholarship list, etc.
If you're applying the first time then first visit on official site or just click on the image given below and click on "New Registration"

After clicking on the option, You visit to a new page

Here you have seen some guidelines just read them properly and tick last 3 check box to agree to the given conditions 

And, Now click on the "Continue Button"

After the click,  a new page contains the registration Form open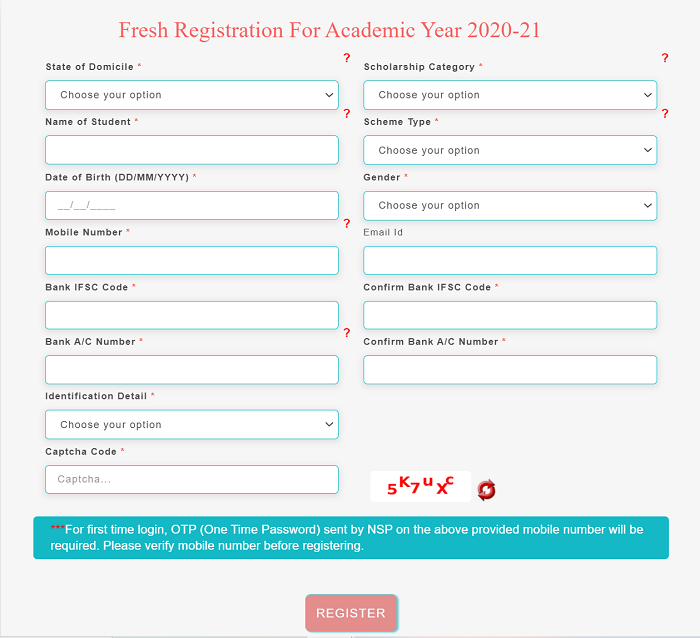 Fill in all the given basic details in the form

Enter your complete bank details with IFSC code

Fill Captcha and Click on the "Register button"

Now, you're registering with the site by following some simple steps

After that, you got your application ID
Note: Just secure this application ID in a safe place because it is used not only to log in to the portal even to renew the scholarship as well. You don't need to create an account again and again. This single account helps with all your needs.
NSP Login 2020-21
Many of us, don't know that NSP has 3 login sections for students, schools, and institutes. Now, In this blog, we will describe all these three logins below.
NSP Student Login 2023
For New User
Now, follow the mentioned steps for NSP student Login or to apply for any scholarship running on the portal-
First Visit On the Site and register by following the above steps and
Now, Click on the Login button comes on the right side of the portal and highlight in the given image

Now it moves you to another page having a form like as given below


Now fill your application ID

Then enter your password and captcha code and click on the Login Button
Move to the next page and select your scheme category and apply for the scheme

For the students who are below 18 years of old a nationalized scholarship form is required to be filled by parents/guardians of the students.

Upload the documents as per the list.

Click on submit.
For Existing User
Apply for the NSP portal with the previous year's registration ID.

In case you forgot your ID you can retrieve your ID through "Forgot Password".
NSP Institute Login 2020-21
If you're an institute then need to follow the NSP institute Login 2020-21 procedure-
Firstly, you need to select the "User Type" from the drop-down list
Secondly, select the academic year for which you want to check details on NSP Login
After that, put your ID  and password in the text box
Fill the captcha code given below in the image box
And, Now, click on NSP Login Button
NSP Portal School Login
List Of Scholarships Available on NSP Portal Last Date
There are various scholarships available on the National Scholarship Portal divided under various departments like-
What is the Aim of the NSP Portal?
If you are a meritorious student or one who belongs to a category like SC/ST/OBC or general with a low economic background can look for different scholarships in this portal. Not only this, if you are a girl candidate then you can also get different scholarships emphasizing girl's education.
 The Mission Mode Project of the National Scholarship portal is running under the National E-Governance plan that is presenting a common platform of e – scholarships. This project is introduced by the State and Union Government and Union territories all over the nation.  The main objective is –
To ensure that every child is getting benefits.

To provide common application ground for many schemes.

Ensuring a smooth process in terms of registration.

Ensuring direct benefit transfer. 
What benefits will NSP Login Give You?
All the information you will get on the same platform.

The portal will suggest the best scholarship scheme for you.

The transparent records will be kept after registration.

Offers a decision support system for ministries and departments to provide up to date content. 

Comprehensive MIS System to boost up the processing of each scheme. 

One can track their processing from registration until scholarship delivery.
NSP Portal Contact Details 
If you have any queries or confusion related to any scholarship running on the NSP portal then you can connect at [email protected] . Also, you can connect through
NSP helpline number -0120-6619540.
Overall, the NSP Login and Renewal process is a simple and convenient way for students to apply for and renew scholarships. It is important that students keep their login details safe and regularly check the status of their applications to ensure they receive the financial assistance they need.