SSLC Prize Money Scholarship 2021 Karnataka is available for SC/ST/OBC students belongs to Karnataka. This step is taken to help poor students who lie under the above-mentioned categories who are financially weak but have the caliber in pursuing higher education. Schemes are offered from both private & Govt. organizations. The scholarship is available for those students who has completed their SSLC examination with 60% Marks & that too in first attempts only.
Check Out: Central Government scholarship schemes 2021
SSLC Scholarship 2021 Karnataka Application Form
We have listed some popular SSLC Scholarship 2021 Karnataka application forms below. These scholarships are need-based, merit-based, college/university specific, career-specific, and category-based. 
Look into : MOMA scholarship 2021 for minorities 
SSLC Prize Money 2021 Online Application are filling through the official portal which is www.sw.kar.nic.in. Even, applicants can check their final status by the same link.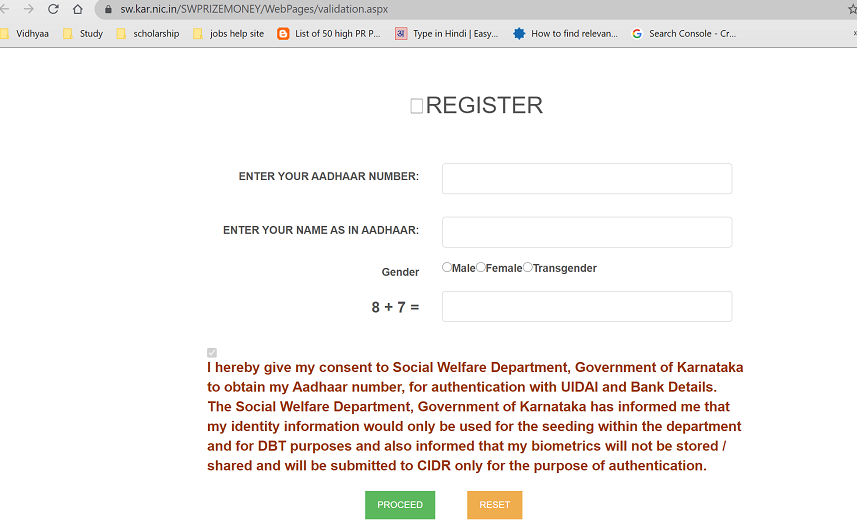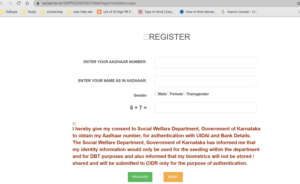 SSLC Prize Money Scholarship Application Process 
To apply one can apply these general steps as follows- 
Visit the relevant official website here.

Search "Online Application(Passed in 2020 only)".

Click on the same link
Enter your aadhar no, and name mention on the card
Select your gender in the text box

Read the guidelines before applying.

Start applying by registering yourself by filling in mandatory information.

Submit your filled page form and keep a track of your application status.
Check out: Epass Karnataka 2021 Application Status
Eligibility Criteria for SSLC Prize Money Scholarship
Students can apply for any SSLC Scholarship Karnataka 2020 by meeting the general eligibility criteria 
Must be from an economically or underprivileged background.

Domicile holder of Karnataka.

Must be completed class 10th or be in class 10

th

.

Applicant must be 2020 passed out, otherwise, applications are rejected
The minimum percentage to obtain is 65 percent
And, should be pass out SSLC in 1st attempt only to become eligible.
Documents Required 
Eligible candidates must attach a copy of the following:
Valid Income and Caste Certificate.

Domicile proof.

Any of the following driving license /Voter Id/Ration Card.

Relevant mark sheet. 

Admission receipt/fees Receipt.

Aadhar Card.

Identity Card.
Top SSLC Scholarship 2021 Karnataka To Apply
Check out the complete list of the SSLC Scholarship 2020 Karnataka along with the last date, eligibility criteria, and application process. 
Detailed List to SSLC Scholarship 2020-21 Karnataka
1) SSLC Prize Money Scholarship 2021 For SC/ST Students
SSLC Prize money 2021 is offering by the social department of state government i.e. Karnataka. The scheme is available for only SC/ST students of Karnataka who had passed SSLC. Under this scheme, the amount is directly transferred to the student account.
Eligibility Criteria For SSLC Scholarship
The student must belong to SC/ST community
He/she must be a domicile holder of Karnataka State
Need to score 60 to 75% in the previous examination and more than 75% in SSLC Examination
Required Documents
Attach Aadhar Card properly
SSLC Reg. number of student
Caste certificate for domicile proof
SSLC Marksheet scan copy
Passport Size photographs
SSLC Prize Money scholarship 2021 Last Date
SSLC Prize money 2021 Last date that came from the government side is 15 March 2021. Applications are ongoing, interested can apply before the deadline.
SSLC Prize Money 2020-21 Apply Online
Visit the official link given above
Click on the new registration over the page
Fill in your name, DOB, previous class, etc basic details
Now, enter your SSLC registration number
And finally, click on the Submit button
Got successful registration message.
2) Vidyasiri SSLC Scholarship 2020 Karnataka for OBC Students
Vidyasiri Scholarship is one of the famous SSLC scholarship 2021 Karnataka for OBC Students. This scheme aims to offer financial support to the meritorious students belonging to SC/ST/OBC/PWD category. 
| | |
| --- | --- |
| Scholarship Name | Vidyasiri |
| Offering By | Karnataka G0vernment |
| Categories Apply | SC/ST/OBC |
| How to Apply | Through Official Site karepass.cgg.gov.in |
| Who Can Apply | Only The Karnataka domicile holders |
Further, the Karnataka government is assuring if the scheme amount is distributed properly through the ePass system.  Many scholarships are running for the OBC category which includes Full fee waiver, free hostel accommodation, etc.
Eligibility
Only the domicile holder of Karnataka should avail of these scholarships.

The ultimate goal of the scheme is to offer the best education support to the deserving candidates.

To apply one must have a financial income of less than 1 lakh.
Deadline: The application will start from July to September. 
Check out: Karnataka Portal karepass.cgg.gov.in
3) Siksha Abhiyan Scholarship
This scholarship is offered by Modi Foundation for class 8th to 12th. The main emphasis has been given to class 10th students with an aim to offer the best educational support to the deserving candidates. Applicants must be studying in class 10th. They must be the citizen of India belonging to Himachal Pradesh, Uttar Pradesh, West UP states. Students will get cash reward according to the rank like 1st 25 rank holders will get INR 50,000 and so on.
How To Apply: Apply through www.modifoundation.co.in between October to December. 
4) GSB Scholarship 
GSB Scholarship is disseminated under Gaud Brahman Scholarship League. Unlike any other scholarship, this scheme also aims at providing financial support to the students of class 10th for completing their studies. To apply you need to belong from Gaud Saraswat Brahmin Community. Must be from 5 to UG educational wise or must have enrolled for courses like diploma/B.A/B.Sc./B.Com/B.Arch/MBBS/B.Pharm. The selected students will get a scholarship of INR 108.3 lakh. The scholarship includes 2000 schools from the village and urban areas. Students can apply by collecting form the GSB office or can Apply Through www.gsbschoalrshipleague.org  in the month of September to November 
5) Aryabhatta National Maths Competition
 Launched by the All India Council for Technical Skill Development, Aryabhatta national maths competition aims to test applicant's skills of mathematics. Applicants should be between 10 to 24 years of age and can be college going or school going candidates. The winners will get variable rewards worth INR 25,000 to INR 75,000 certificate, trophy, and 1-year free training in the R&D department of Robotics Automation and Software with the leading company.
Application Date: Apply through the official website by downloading the form before 31st August 2021
6) All India Meritorious Scholarship 
All India Meritorious Scholarship can be applied online under which selection is done through an online exam. Students who have appeared for the class 10th board exam can apply. Students of class 11th and 12th can also apply. For applying students need to pay the application fee of INR 249 at the time of registration.
There is two scholarship program running under this scheme which is merit cum means based scholarship and Need cum merit-based scholarship. The selection for this merit-based scholarship will be totally on the basic test result and interview. It also includes family income and academic scores throughout. Apply from the official website in the month of June to September. 
7) Sterling and Wilson Solar Scholarship for the students pursuing fulltime ITI
This scholarship is offered by Sterling and Wilson Solar Limited that help students pursuing a full-time ITI course. The main aim of this scheme is to offer quality education for the students who deserve and dream of pursuing their higher education. Eligible students who have scored a minimum of 35% marks in class 10th. Their family income should be less than 4 lakh annually and should be pursuing a full-time ITI course. The selected candidates will receive a scholarship amount of INR 10,000.
Apply through:  www.vidyasaarathi.co.in before 31st /3/2021.
8) Vidyadhan SSLC Scholarship 2020 Karnataka
Vidyadhan Scholarship program is running under Sarojini Damodaran Foundation that supports Higher Education for students belonging to the economically challenged backgrounds. The students after completing their 10th can apply through tests and interviews. The selected students will get a scholarship for two years. The program covers states like Kerala, Karnataka, Tamil Nadu, Pondicherry, Andhra Pradesh, Gujarat, Maharashtra, and Telangana. Many schemes are running under this-
Andhra Pradesh Intermediate Program 

Gujarat Class 11

th

Program 

Karnataka Plus 2 program 

Kerala Plus 2 program 

Maharashtra 11

th

Standard program 

Tamil Nadu and Puducherry Plus 1 

Telangana Intermediate Program 
Apply through: the relevant website between August to December. 
9) Incentive for SSLC & 2nd PUC Students, Karnataka 
The State Government of Karnataka has a liberated Incentive scheme for SSLC and 2nd PUC students who have scored a minimum 85% marks and above in the final examination of class 10th. Applicants must be of a minority community (Muslim, Sikh, Christian, Jain, Parsis). They must be domicile holders of Karnataka. The selected students will get a one-time incentive of INR 10,000  and 2 PUC will receive a one-time cash reward of INR 20,000.
Application Link: gokdom.kar.nic.in from July to September. 
10) Indian Oil Academic Scholarship
There are many schemes that are running under the Indian Oil Academic Scholarship that is offered to class10th students. Approximate 2000 scholarships are awarded to the students after completing their 10th. The scheme is for outstanding scorers that carry amount INR 1000 per month for two years for class 11th and 12th. The total value of this endowment is INR 24,000. Students taking admission in class 11th can apply for an Indian oil scholarship. The family income should not be more than 1 lakh. Stud nets must have scored a minimum of 60% to 50% (for students with disabilities).
Last Date To Apply: August to October from the official website.
11) Swami Vivekananda Utkrisht Chhatravritti Yojana 
The government of Himachal Pradesh invites the meritorious students of class 10th of the general category for this scheme. This is a strictly merit-based scholarship for the students who have taken admission in class 11th or in any professional technical courses after the 10th. The selected scholars will receive INR 10,000 P/A. To apply one must be a citizen of Himachal Pradesh or taken admission in class 11th or any professional course. The cash amount will be given to the top 2000 meritorious students for two years. Selection will be done totally on a merit-based. 
Apply through: www.scholarship.gov.in from October 15th, 2020 to November 15th, 2020. 
12) Allen Champ 2021
Allen champ scholarship is for meritorious students of class 10th. This endowment is held to honor the mentor and student for their exceptional winning. Allen champs analysis and recognized the ability of the students in the areas of academics, aptitude skills, etc. Allen champ applicants must be from class 3rd to class 10th. Must have one achievement according to the list of Allen champ mentioned on the official website. The top rankers are not allowed to apply for next year. One can apply from January to March through the official website.
13) CBSE Single Girl Child Scholarship 
CBSE Single Girl Child Scholarship is disseminated by the Central Board of Secondary Education (CBSE).       The main objective of this scholarship is to offer financial support to a girl child of a family. An only a single child can apply for this scholarship. One must have secured a minimum of 60% marks or more in class 10th and fees should be not more than INR 1500. Selected girl candidates will be given INR 6000 P/A for two years of class 11th and 12th. The application generally starts in the month of October and the Deadline to apply for this scholarship is 25/11/2020 (tentative).
14) Saraswati Academy Scholarship
This scholarship is disseminated under Saraswati academy through the Saraswati Academy Scholarship Test. The scholarship is for 10th passed students who are residing in West Bengal, Tamil Nadu, and Karnataka. The scheme amount covers according to the rank like from 1st to 5 scoring 95% marks cover 100% fees waiver, rank 6th to rank 15th with 905 marks covers 70% tuition fees, rank 16th to 30 with 705 marks covers 50% tuition fees, rank 51 to 100 with 60% marks covers 40% tuition fees, scholarship from rank 10to 200 with 50% marks covers 30% tuition fees.  
Deadline to apply: 31st March 2020 from www.academy.saraswationline.com
15) SHDF SSLC Scholarship 2021 
SHDF scholarship is now open by the Sikh Human development foundation and Niksham Sikh Welfare Council, New Delhi. The scholarship is from class 12th to Post graduation students. Applicants who have pass 12th with a minimum of 60% scholarship and are willing to pursue their studies can apply. All the shortlisted candidates will get up to INR 30,000 along with other facilities. The selection will be based on a test that will consist of a paper one and paper two. Paper one will have questions related to general knowledge and paper two will have questions related to religion and moral studies.
Apply through: niksham.in between May to June.
16) National Talent Search Exam. Scholarship 
National Talent Search Examination is a national level scholarship program whose aim is to identify and recognize the talented candidate academically. The test is conducted every year at two stages Level 1 (state level), Level 2 (National level). 
It is conducted by NCERT with an objective to identify talent for Science, mathematics, social sciences, and question-based on analytical reasoning. 
Eligibility Criteria
For level one class Xth students are eligible.

They must have attained 60% marks in class IX t i.e. last academic year.

One must be studying from school from respective state or union territory.

5% relaxation will be given to SC, ST, and PH category.

The selection will be done on the basis of the written exam.

Students clearing stage 1 will be forwarded to stage 2.

Selected students will get a scholarship of INR 500 per month.
The NTSE will be declared through the official website in the month of July to August. The dissemination will be done according to general SC, ST, and disable quota.
Application Last Date:  varies from state to state and one can apply between November to January.
17) Jio Scholarship 
Jio Scholarship is offered by Reliance Group for the students of class 10th. Selected students will get a certain amount on the basis of their score in class Xth. To avail, one must have scored a minimum of 75% marks and 85% marks for CBSE and ICSE. This scheme is open for Indian nationals as well. Students will be rewarded INR 35,000 per annum.
Application Link: Apply through www.jio.com. Applications are active from March to May month.