A Prize Money Scholarship 2023 is a type of financial aid that is awarded to students based on their academic achievements, extracurricular activities, or other outstanding accomplishments. These scholarships are typically given out by colleges, universities, and other organizations as a way to recognize and reward the achievements of top students.
One of the main benefits of a Prize Money Scholarship is that it can help to cover the cost of tuition and other expenses associated with higher education. This can be especially important for students who come from low-income families or who may not have the financial resources to pay for college on their own.
Prize Money Scholarship 2023-24 Last Date to Apply is May 2023 Which is extended by the government. Below you can check the eligibility criteria, application process for the scholarship.
Another important aspect of Prize Money Scholarships is that it can be renewable. This means that the scholarship may be awarded to a student for multiple years, typically based on the student's continued academic and extracurricular achievements. This can help to ensure that students are able to complete their studies without facing financial difficulties.
How to Apply in Prize Money Scholarship 2023-24
To submit your application for the Prize Money Scholarship 2023-24, please follow these simple steps: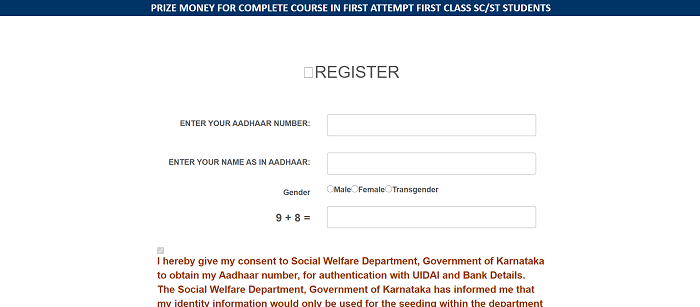 Visit the official scholarship website.
Locate and click on the link labelled "Digital Application (Passed out in 2022)."
On the next page, enter your Aadhaar number and name (as listed on your Aadhaar card) in the designated fields.
Select your gender from the options provided (male, female, transgender).
Complete a verification step by solving a simple addition problem (i.e., 1+ 10=11).
Review and accept the "Declaration" by checking the appropriate box.
Finally, click the "Proceed" button to submit your application.
Prize Money Scholarship Reward
| | |
| --- | --- |
|  Class |  Prize Money in Rupees |
| Agriculture, Veterinary, Engineering, Medicine  |  35,000 |
| Postgraduate  courses like M.A, M.Sc, etc  |  30,000 |
| 2nd PUC prize money 2020, Diploma Course |  20,000 |
| For Degree course | 25,000 |
Prize Money Scholarship 2023 Marks Required
| | |
| --- | --- |
| O9.00 & Above  | 1st Class with distinction  |
| 08.00 to 8.99 | 1st Class |
| 06.00 to 07.99 | 2nd Class |
| NC | NON- Credit course  |
| S | Satisfactory  |
| Examination  | Both External and Internal  |
| Medium | English |
| System of Education  | Semester  |
| R | Repeated Course  |
| * | Spread Over for two years  |
Who is Eligible For Prize Money Scholarship 2023
To be eligible for the Prize Money Scholarship, the following criteria must be met:
The applicant must be a member of a Scheduled Caste (SC) or Scheduled Tribe (ST) family.
The applicant must have achieved a first-class degree in the first attempt in 2022, in the fields of Secondary School Leaving Certificate (SSLC), Pre-University (PU), Degree, Post-Graduation (PG), or professional classes.
The applicant must be a student at a recognized university.
There is no income limit for the scholarship.
Another important factor that is often considered when awarding Prize Money Scholarships is the student's financial need. This can include factors such as the student's family income, the number of dependents in the household, and the student's overall financial situation
Documents Required
The following documents are required when applying for the Prize Money Scholarship:
A copy of the applicant's Aadhaar Card
Caste certification
A recent passport-sized photograph (size of 100 KB)
Bank details associated with the applicant's Aadhaar (such as an account passbook)
A photo of size 20 KB
Marks card
Caste number starting with RD
It is important to note that Prize Money Scholarship are not limited to only academic achievements, it can be awarded for other outstanding accomplishments as well. For example, some organizations may award scholarships to students who demonstrate exceptional talent in music, art, or other creative endeavors. Additionally, some scholarships may be awarded to students who have overcome significant obstacles or who have made significant contributions to their community.
Contact Information for Prize Money Scholarship
Department: Social Welfare
Commission: Social Welfare Department
Address: 5th Floor, MS Building, Dr. Ambedkar Veedhi, Bengaluru- 560001
Email: [email protected]
Fax: 080-22353757
Helpline: 08022634300
FAQ's
Ques- Who offered the Scholarship?
Ans- This scholarship for economically disadvantaged students is provided by the Social Welfare Department of the Government of Karnataka. It aims to make education more accessible and affordable to those who may not have the financial means to pursue it otherwise.
Ques- Why the scholarship offer to the students?
Ans- The Prize Money Scholarship is offered to students to assist with the cost of their education in programs such as II PUC, 3-year Polytechnic Diploma, Certificate, Agriculture, Technology, Veterinary, Medical, and other Postgraduate courses such as M.A., M.Sc., etc.
Ques- What is the last date of Prize Money Scholarship?
Ans- The Prize Money Scholarship last date extended to be in December 2022, the latest date will be updated soon on the page. Till the time stay connected with the page.