SSP Karnataka gov in is an official Karnataka portal to apply for Pre matric and Post Matric Scholarship Schemes. Those students who have attained a matriculation degree and those without a matriculation degree are both eligible to apply and gain benefit from this portal. The Government with the help of this portal is trying to reach out to students who are in need of scholarships and can be benefitted from these scholarships.
SSP Portal allows you to check vital information including the last date of application, eligibility and other required information.
SSP Karnataka gov in Scholarship
The Government of Karnataka has launched the state scholarship program referred to as the SSP Karnataka gov in Scholarship, which takes into consideration students who have passed class 10th and also those who are yet to clear class 10th. The e-Governance wing of the state has designed a portal that allows students to sign up for various scholarships. This program of the state government helps various deserving candidates to apply for scholarships. The Government aims to develop a portal through which it can extend help to the needy.
How to Fill Form For ssp.karnataka.gov.in Scholarship on Portal
In order to apply and avail benefits of various scholarships for enrolment on the SSP Portal, students are required to follow the given steps.
Step 1: Visit the official website of the Karnataka Government or direct click on the link here
Step 2: The second step requires the applicant to click on the 'create account button' available on the homepage of the Portal.
Step 3: Students would then be required to select the scholarship they wish to apply for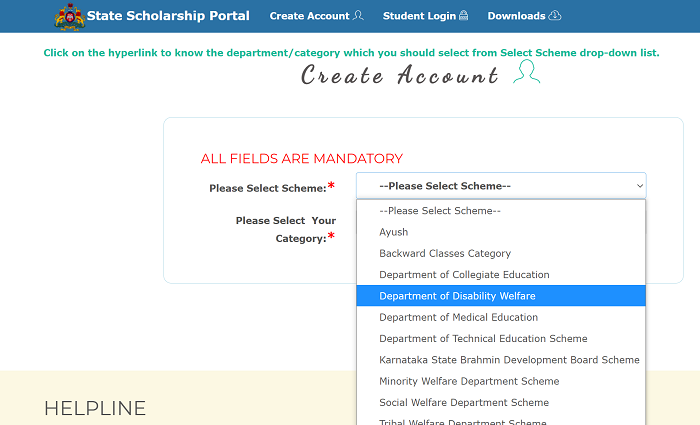 Step 4: Applicants will then have to select their category
Step 5: You will then be able to see "SELECT District" Option, Need to select from the drop-down list
Step 6: After that Select your " Studying Taluk"
Step 7: Now select Yes on Aadhaar Card Option, and enter your name and Aadhaar no in the given boxes
Step 8: Next step requires selecting your  Gender,
Step 9: After that fill the captcha number, and check the declaration box
Step 10: Now the applicants need to click on the 'proceed' button.
Step 11: Students will then have to enter their mobile number and then will have to proceed to click on the 'Submit' button on the SSP Portal.
Step 12: You will now be able to receive an OTP being on your registered mobile number.
Step 13: The students will then be required to enter the OTP and then enter their password.
Step 14: Students would then be required to fill in the relevant details and then submit the form.
SSP Karnataka gov in Scholarship Last Date 2021
SSP Karnataka gov in scholarship Last Date is 20 April 2021. For various departments given are as follows:
| | |
| --- | --- |
| Department of Technical Education SSP Scheme Last Date | 20-04-2021 |
| SSP Scholarship Last Date dedicated to Tribal welfare department scheme | 20 April 2021 |
| The last Date dedicated to social welfare schemes is | 20 April 2021 |
| SSP Scholarship Last Date dedicated to Karnataka State Brahmin Development Scheme | 20-04-2021 |
| Last Date for postgraduate and Post-Matric Scholarship | 20 April 2021 |
| SSP Scholarship Last Date dedicated to Minorities welfare scheme is | 30 April 2021 |
Therefore, it is essential that the students remain connected with the portals and update themselves with the information posted on the portals.
Departments Under WWW SSP Karnataka gov in Portal
Under the www ssp Karnataka gov in Portal the government has developed 4 departments through which it can help post-matriculation students. These 4 departments are as follows:
● The Minorities Welfare Department
● The Scheduled Welfare Department
● The Backward Classes Welfare Department
● The Minorities Welfare Department
These departments of the Government utilize the Direct Benefit Transfer to provide assistance to various students. Direct click on the given link to access the government website. It helps the students to apply for scholarships through an online medium.
Types of SSP Karnataka gov in Scholarship
The Government provides two types of scholarships for respective groups:
SSP Pre-Matric scholarship
SSP Post-Matric scholarship
SSP Karnataka Gov In Scholarship Portal allows the students of various communities (including SC, ST, OBC, Minority Communities, and Economically Weaker Sections) to help bag scholarships. Students who have been studying from Class 1-Class 10 can avail the Pre-Matric Scholarship. Those students who have cleared Class 10th and are studying in Class 11th or Class 12th and are eligible can apply for Post-Matric Scholarships. The Government also provides a provision of scholarships for those students who have been pursuing graduation, post-graduation or Ph.D. The Scholarship amount varies accordingly.
The Government of Karnataka(GoK) aims to build the interests of the students in the research field via the provision of SSP Portals. Students from different parts of the state can utilize this benefit of online scholarship schemes. The provision of these schemes have helped the students to ease their process of the scholarship application. The students can also apply for fresh scholarships or renew the old ones. In addition, students have the added benefit of tracking their scholarship status. Read on to grasp a deeper and wide understanding of the SSP Portal.
Benefits of SSP Karnataka gov in Scholarship
Students who have been pursuing M.Phil are eligible to receive a monetary gain of INR 8,000.
Students who have been pursuing a Ph.D. degree are eligible to receive a financial gain of INR 10, 000 after they have completed their course of study.
The Post-Matric scholarships include the tuition fees and other educational expenses that may pop up during the entire course of study.
SSP Scholarship also pave a way for the students to gain admissions in the matric course and post-matric courses too. These scholarships act as a boon for underprivileged students.
Eligibility Criteria of SSP.Karnataka.gov.in Scholarship
Any student who wishes to apply for these scholarships can check their eligibility criteria and apply if eligible. Following are the eligibility criteria:
The student must be of ST caste in order to be eligible for SSP Scholarship.
Students must have secured 50% marks in their prior examination.
Annual Income of the applicant's family(parents/guardian) should be less than 1 Lakh per annum.
The applicant should originally be of the state of Karnataka and not any state.
If the applicant has been taking advantage of any other scheme, he/she can also apply for SSP Scholarship.
The Student should be a full-time or regular student of any recognized government or private schools.
The School must be affiliated with CBSE or State Board.
If a student fails to clear any class in a single attempt, the Government may cancel his/her scholarship.